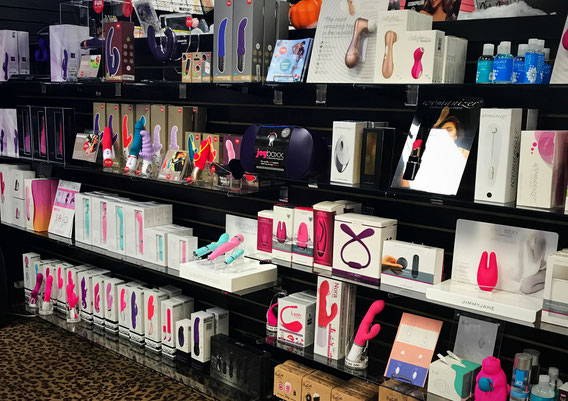 Welcome to our glorious haven of sex toys!  We're not like the old dirty porn store you're thinking of...well, we do sell porn, too, but we've spruced things up and now we're so much more. We're also not a persnickety boutique that only sells overpriced luxury items to the upper class. Excitement is for EVERYONE and we've got a little somethin' somethin' for just about anyone (over 18, that is) no matter your sexual or gender orientation or lifestyle preferences - all are welcome. From affordable first-time toys to luxury love devices, from romantic gifts to kinky play,  from sexual health and wellness to knee-slapping gag gifts, our well-trained staff will help you find the right thing for you and your partner(s). Come in and explore our testers, ask us questions about sex, learn new tips and tricks and take home something exciting.
First time shopping for toys?
RELAX!

 

No need to panic or feel nervous - we're here to help and this should be fun!


GET READY TO LEARN.

 

It's pretty common to see things we sell and be confused about how they're used - just ask us!


GIGGLES HAPPEN.

 

We get it. You might be unable to control your laughter around all this sex stuff and some of it truly is funny. But please, refrain from outwardly mocking the items - A 3-foot-long dildo may seem ridiculous to you, but someone nearby may be seriously considering buying it and be discouraged or embarrassed if they hear you.


BE YOURSELF.

 

Our staff is sex-positive and non-judgmental, so if you're into a unique kink, ask us about it politely and we'll do our best to help. 

One caveat - We are not here to be part of your fantasy or to be propositioned or solicited or disrespected. Our staff reserves the right to draw the line if they feel you are being inappropriate.



KNOW YOUR BODY.

 

What gives you (or the recipient if it's a gift) the most pleasure? Do you like external play or penetrative play or both? What size, color, shape power intensity might work best? It's okay if you don't know, but if you do it will help us help you. 


GIVE US A BUDGET.

 

Sex toy prices run the gamut from $5 to $500+ depending on the features, so if you only have $30 to spend, tell us and we'll help you find the best possible option within your price point.


DON'T FORGET LUBE AND CLEANER!

 

Lube is more important than most people think, especially for toys. And proper care and cleaning is essential to avoid unwanted infections or irritation.


SATISFACTION GUARANTEED.

 

We have an incredible

 

exchange program, because we know that what works for one person, may not be perfect for someone else and you won't know until you put it against your body. So if you don't love your new toy, simply hold on to the package and receipt and bring it back to us within 15 days and we'll let you swap it out for something else. And no, we NEVER resell these items - we send them back to the manufacturer.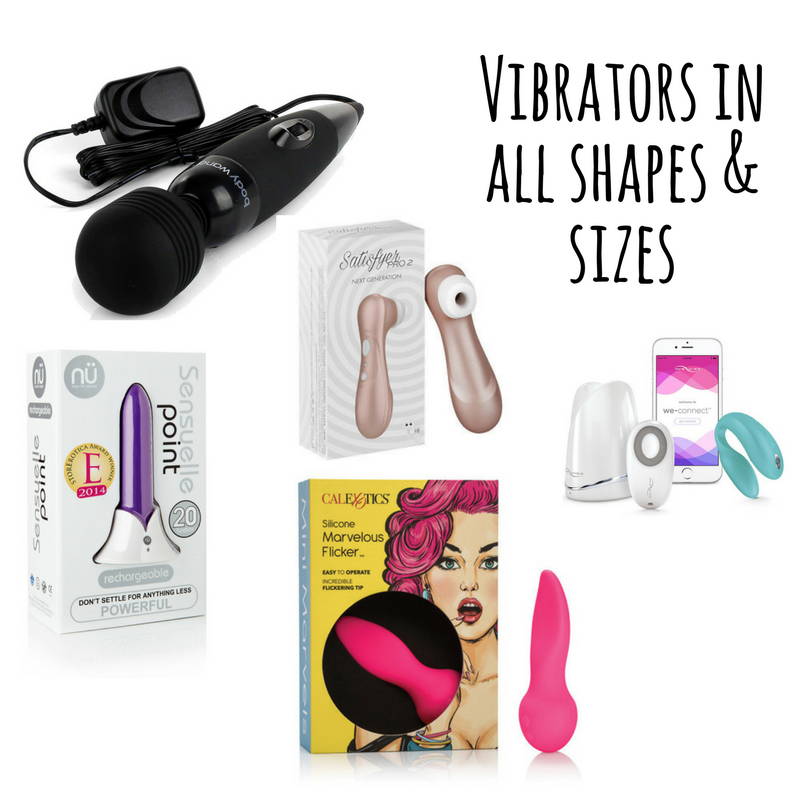 We recommend certain toys/brands at Excitement because we believe in the quality of the materials or manufacturer. Specifically, we love non-porous materials like silicone, ABS plastic, glass and metal because of how easy it is to keep them clean and how long they last. Porous materials like TPE/TPR, jelly, rubber, "cyberskin" or other real-skin-feel items can feel wonderful and are often inexpensive, but they have the ability to hold on to bacteria in their pores so it's not possible to sterilize these toys and they should be limited to a single user, cleaned thoroughly before and after use and stored separately from other toys. If you ever notice a change in color, shape, smell or texture, it's time to throw your toy out and replace (or upgrade!) it.
That being said, what's best for your body may be different than what's best for someone else, and if you have a toy material or style you love that's working for you, by all means, keep using it! If you notice any itching, burning or irritation though, discontinue use of your toy ASAP or try using it with a condom or a different lube. Don't give up on toys if the item you bought isn't doing it for you - utilize our exchange policy to try different brands or ask us for help. Listen to your body and go with what works best for you and your partner(s).
Want to learn more about toys? Come in and ask us! Or refer to these awesome resources below.