It's time we put away all the tired, negative notions attached to anal sex. Despite the stigmas, butt stuff is actually totally normal  and totally natural. Everyone has a butt! If you're a human, anal sex is a fun and pleasurable experience available to you.
If you've ever been curious - but not sure where to start, here is our beginner's guide.
There are thousands of nerve endings sitting in the anus and the anal canal. More nerve endings = more opportunities for pleasure. For people with a prostate, that pleasure capacity is even larger! For people with vaginas, anal penetration can affect the pelvic floor muscles making orgasms stronger and more intense. There's a world of pleasure in your butt just waiting to be discovered!

It's worth mentioning here that if a little poop happens, it's not a big deal! However, there are a few ways to help make butt stuff a little less messy and more enjoyable. We suggest going to the bathroom a couple hours before play time. Anal enemas are an option if you want a little extra peace of mind.

Relaxation is essential. The more anxious you feel, the more tense the muscles in your body will be. Make sure your body is fully aroused, turned on and ready before you insert anything.

It's helpful to start with fingers to get used to the sensation before moving on to anything bigger.  
Nothing is going to put a damper on this experience more so than trying to go into it dry. Your butt doesn't produce its own lubrication, so a good anal lube is essential. If toys are involved, you'll want to stick to a thick water-based lube. If you're opting for skin on skin only, a silicone-based lube is a good option! As always, avoid oil-based lubes when using latex condoms as they will deteriorate the material and may lead to breakages.

Any water-based lube will eventually dry out and you may need to apply more. Silicone-based lube doesn't absorb into your skin so a little bit goes a long way, but it will stain fabrics. Some anal lubes have ingredients like hemp seed oil or jojoba that can help relax the muscles. Steer clear of anything with lidocaine, benzocaine, or other numbing agents, as they  increase  the risk of injury and  decrease  the pleasurable sensations. Some of our favorite anal lubes at Excitement are..
Sliquid Sassy  (thick water-based)
Wicked Gel  (Jelly water-based)
Wicked Toy Love  (super thick water-based)
Behind by Pjur  (thick water-based)
Analyze me by Pjur  (water-based that doesn't dry out)
Analyze me by Pjur  (silicone-based with jojoba)
Toys! Plugs! Beads! Dildos! Tails!
There are so many options for fun things to put in your butt! Here are a few we recommend for beginners…
This set has three different beaded plugs that are perfect for fun, curious exploration! They are made of non porous silicone, and come in three different shapes. The beaded shapes give you the option to play with different sensations without committing to holding an entire plug. They're also cheap! For only $21.99 you get three plugs!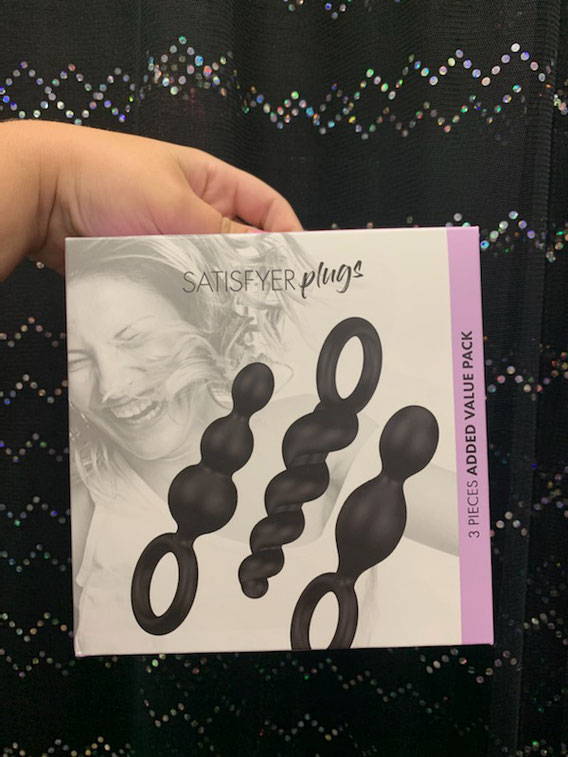 Booty Call Booty Starter by Calexotics
Also made out of silicone, this small plug is slim and petite. It's size and flexibility make it really comfortable for first timers. It can be really helpful in getting used to the sensation of having something in your butt. Try wearing it and pairing it with other types of stimulation!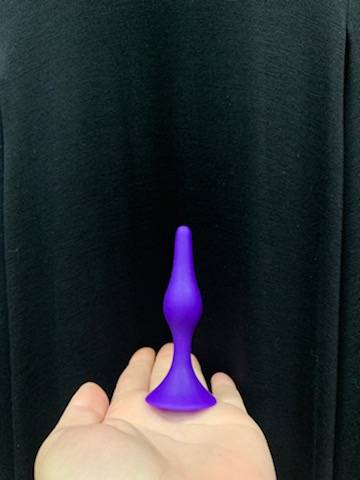 This one is perfect if you want the added sensation of vibration! Stimulating those nerve endings with vibration is a really good way to relax the muscles and it feels amazing! It's made with silicone and has a powerful rechargeable motor.
Key features to look for in a good anal toy are a flared base (to avoid anything slipping inside and getting stuck) and a bodysafe material (silicone, glass, steel).  Don't forget that if you choose a silicone toy, you can't use a silicone-based lube!  Make sure to stop into one of our locations so we can help you find the perfect toy to fit your specific needs.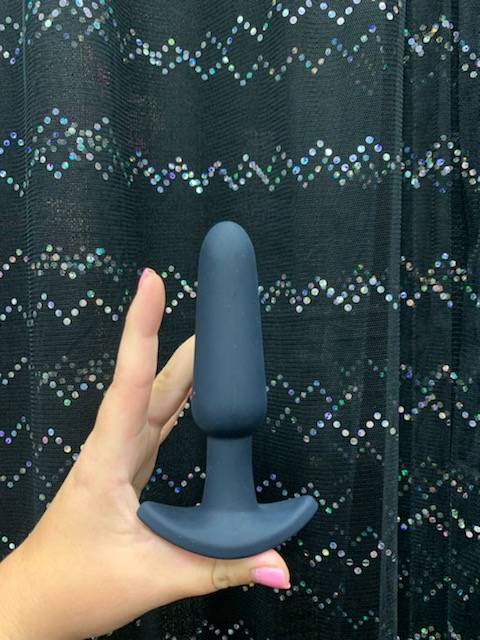 Our biggest piece of advice is anal sex  should not hurt. Go slow and do what feels good. If it hurts, stop and regroup. Booty play can be such a fun, new experience to add to your pleasure. It can enhance other sensations, or be amazing all on its own!

Good luck and have so much fun!  
Want to learn more about toys? Come in and ask us or give us a call!