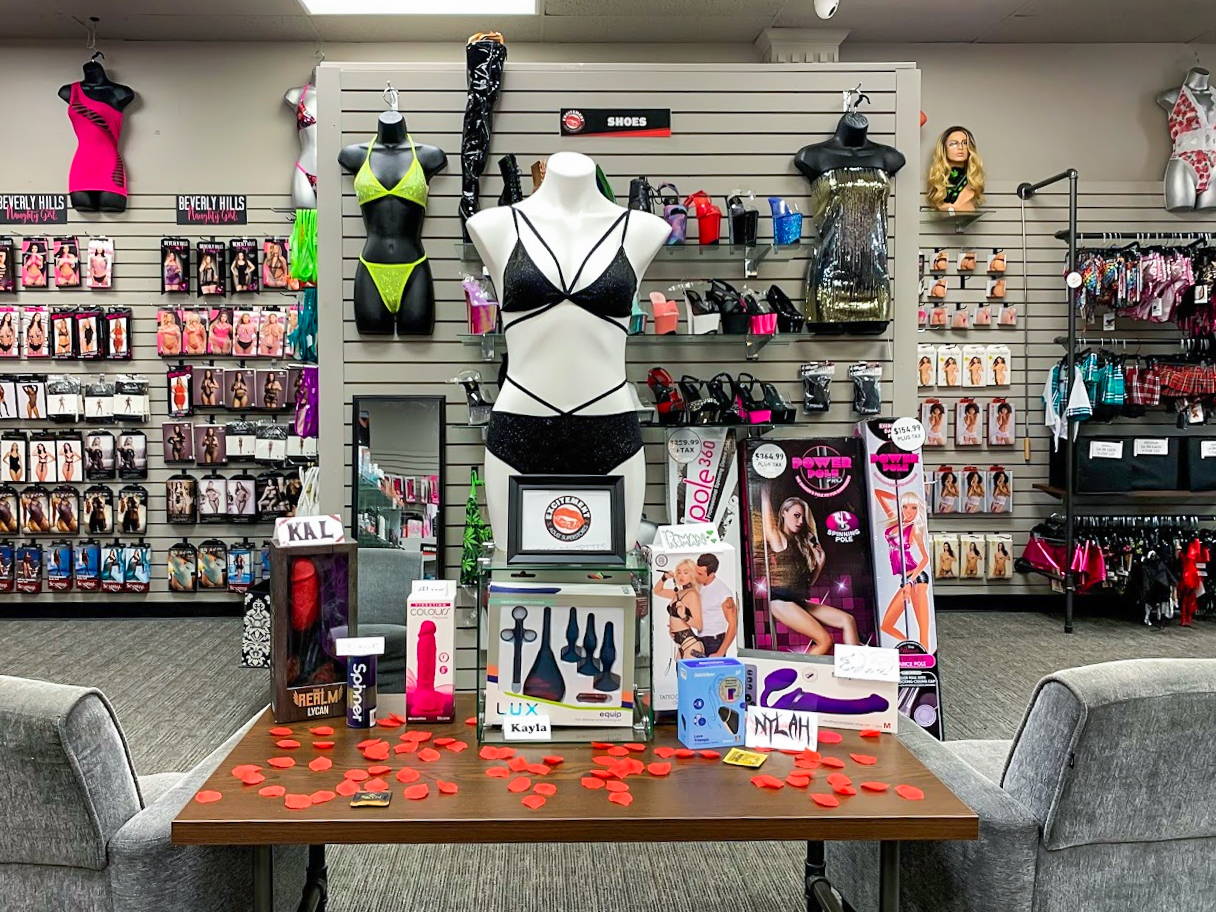 In the old days, adult stores were very different from how they are now - in a lot of ways. Beyond just the stark difference that can be viewed by visiting brick and mortar stores 20 or 30 years later, the adult pleasure product industry itself has made so much progress over the years. We're not completely there yet, but the advancements in technology, development and marketing of sex toys has come a long way.
When you think of adult stores, what do you think of? Walls and walls of porn movies? Dimly lit shops with a sketchy cashier? Parking far away and walking in with a baseball cap on to quickly get what you need and get OUT?
If this is this vision that comes to your mind - you're due for a visit to Excitement Adult Stores to change your perspective.
We not only look and feel better than the adult stores of years past, but we also hold better, more progressive values that really show up in the customer experience.
Keep reading to learn about the NEW adult store environment, and how Excitement Adult Stores shows up in a progressive future.
Adult Store with More Than Just Porn
Don't get me wrong, Excitement does carry a great selection of explicit movies for sale. We are also one of very few brick and mortar stores left that still offer DVD rentals!
We have nothing against the use of explicit media. They can be great resources for not only pleasure, but education as well! However, the porn section is far from the main attraction of our inventory. And it's a common misconception about adult stores that they only offer porn!
Not Excitement, though!
We carry a wide variety of pleasure products ranging from vibrators to dildos, strokers, butt plugs and MORE. Our shelves are stocked with the latest and greatest of the pleasure product industry - including some of the most advanced tech on the market when it comes to sex toys.
We also have a health and wellness selection that includes tools and products that aid in sexual wellness beyond pleasure alone.
And what's better yet is the highly knowledgeable and trained staff that is there to help any questions you may have about anything that we carry - including how to best and safely use a product, what is best for certain needs, and what additions might be helpful!
Speaking of our staff…
We take huge pride in our devotion to the cause of sex positivity. At Excitement, we believe that pleasure is your birthright, and that despite how negatively our culture views the expression and experience of human sexuality - we are here to promote your right to get down and dirty!
Everybody who works in our stores (and outside of them) is sex positive, educated, and capable of assisting our customers in an appropriate and positive manner. We all believe that our adult, consensual sexual experiences should be free of shame, guilt, and ignorance.
We believe in the value and utmost importance of sex education for all - and because it's not offered widely and freely, we are proud to provide it.
Yes, we sell sex toys. But our staff also works to educate you about sex. You would be surprised how many people don't know about their own sexual anatomy! So, we're also here to teach you and assist you in meeting your full sexual potential.
The Ethics of Our Business
Along with our stance on being a sex positive establishment, we also believe in being diverse and inclusive of all people regardless of race, gender, sexuality, or age. Our ethics are based on inclusivity in the sexuality space!
When you enter one of our stores or start shopping online, you are sure to find something that will fit your needs, no matter your gender or sexual orientation. It's important to us to carry products that are specifically designed for the LGBTQ+ community, because of how often they are left out of sexuality spaces. We carry items such as chest binders, strap ons, pumps and more.
Beyond the products we sell, we make a yearly appearance at our local PRIDE events, and love to partner with and participate in LGBTQ+ affirming events and organizations.
The future is inclusive, and Excitement plans on staying that way!
Visiting one of our brick and mortar adult stores in Pennsylvania is sure to completely change your mind about the nature of this industry. We work hard to bring you a positive environment, and promote our ethics and values.
If you're interested in having your mind changed, be sure to visit any of our locations and get a feel for the new world!
Shop some of the products mentioned in the blog: