Sex and sexuality play a huge role in our overall health and wellness. It's my firm belief that our bodies and health do not exist as separate, independent pieces! All the different facets of our lives influence our health and overall wellness. Our sex lives are interconnected with our happiness, our physical health, and our mental health! For starters, orgasms provide a number of different health benefits including stress relief, pain relief, increase of blood flow, and mood-lifting endorphins. The interconnectedness of sex and wellness drove Excitement to open a carefully curated Health and Wellness section in our stores. I'll break down everything we offer here and how it can help you!
Kegel balls are like weight-lifting for your vagina! A kegel exercise is the contracting and relaxing of the pelvic floor muscles. If you don't know how they work - next time you go pee, stop your stream of pee and then let it flow. The muscles you use for that, are the same muscles you use for kegels! You can do kegels without the balls, however the balls give you something to hold on to as well as add weight to help gain strength. Pelvic floor exercises can help with incontinence, pregnancy recovery, and better stronger orgasms!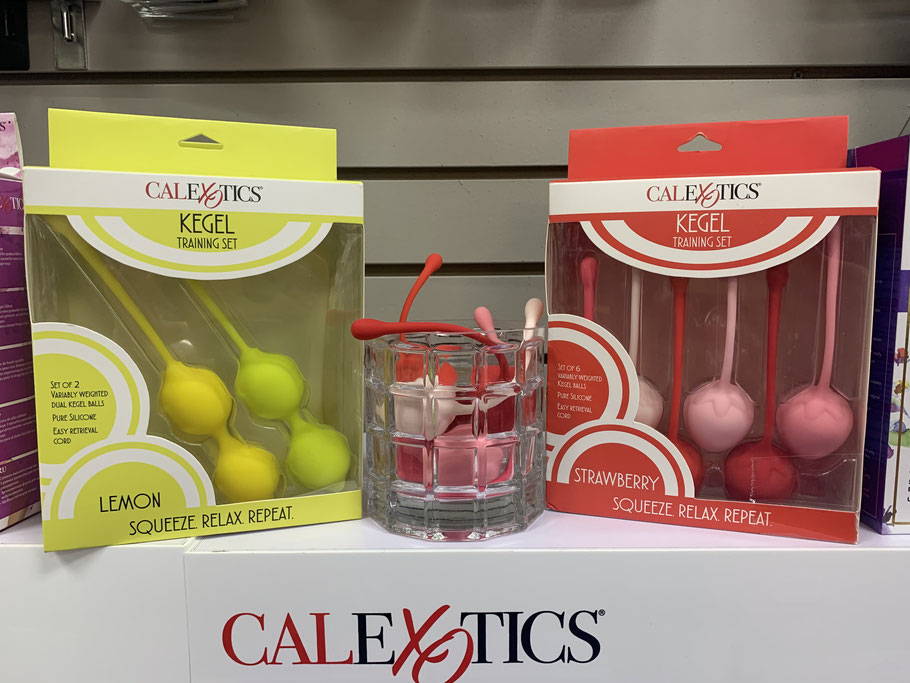 The prostate is a walnut sized gland that sits in between a man's bladder and rectum. It is responsible for producing part of the fluid that is found in ejaculate. Some call it the "male G-spot" because stimulation of this gland can lead to mind-blowing, full body orgasms for men. The Aneros line is medically researched, designed and patented. Their toys work by sitting inside the rectum and producing a rocking motion due to your body's muscle contractions.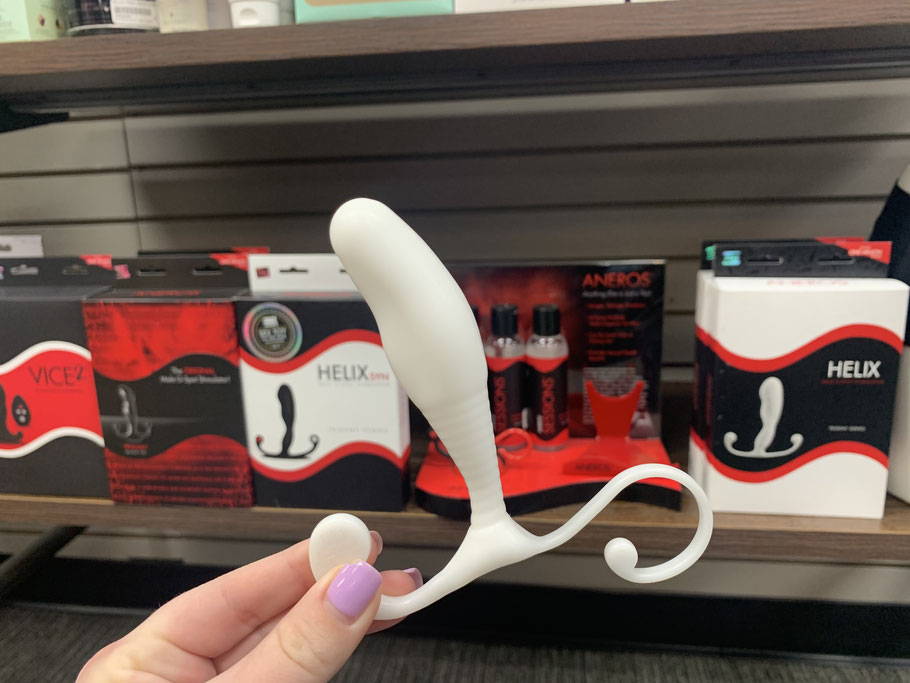 By now you've probably heard of using menstrual cups to maintain periods. They are no doubt a healthier, more sustainable option! Although they are gaining more popularity, a lot of our customers are still confused when they see these in stores. We carry menstrual cups because periods are a natural occurrence! They work to deal with your period on the day-to-day but a lot of them have the added bonus of being able to wear them for mess-free sex!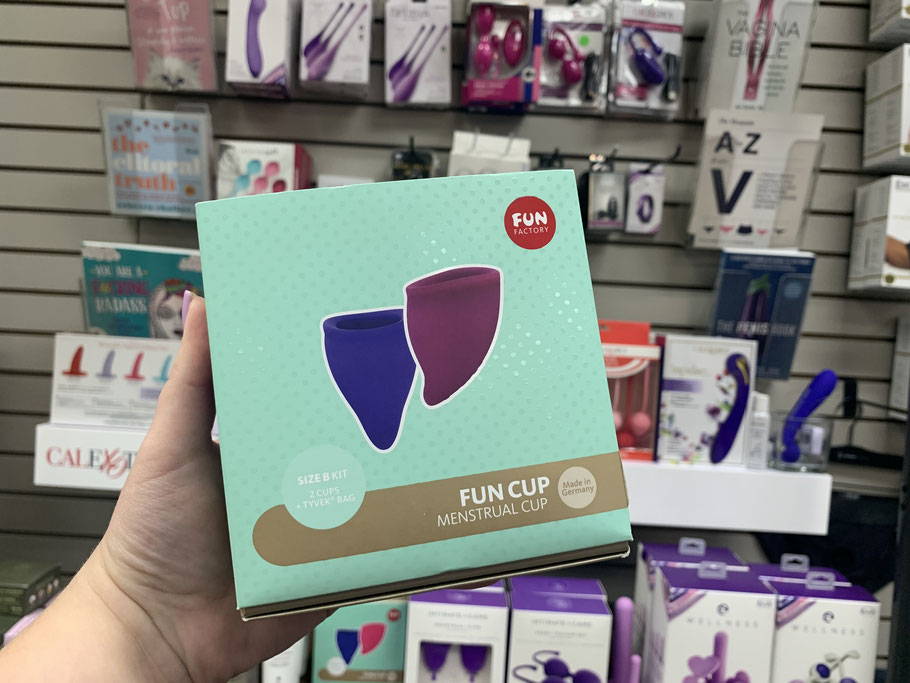 A dilator is a tool used to aid vagina-owners who have difficulties with penetration. They are usually much slimmer and smoother than traditional dildos making them easier to insert. Some even come tapered, in sort of a cone shape making insertion even easier. When using dilators for the purpose of getting used to penetration, it's usually a good idea to purchase a graduating set to work your way up (if that's what you desire). It's important to note here that if penetration is just not your thing, it doesn't have to be! We always have full sexual choice and autonomy. Plus - there are so many different avenues of sexual pleasure outside of penetration! With that being said, if you have difficulties and wish to overcome them a dilator kit could be a great option for you. (Oh, and lube is always a must).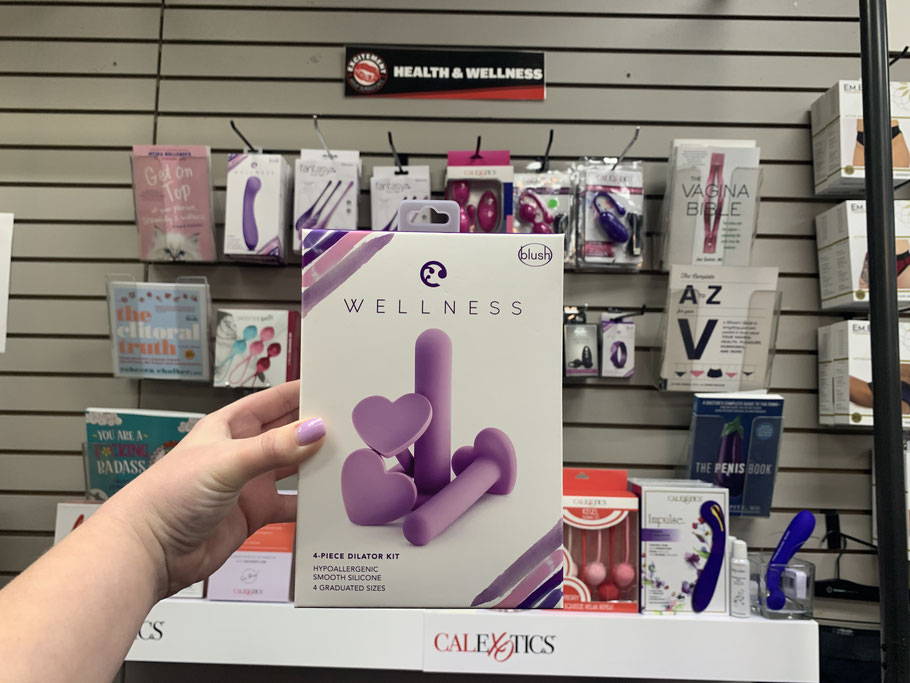 In our health and wellness section, we are stocked with some amazing books. If you're looking to get educated on your body and sex… this is your section! We carry books like "Get on Top: of your pleasure, sexuality, and wellness: A Vagina Revolution", "The Complete A to Z for your vagina", and "The Penis Book".

One book we carry titled "The Vagina Bible" was gifted to me by my dear coworker. It was an amazing read! Written by gynecologist Jen Gunter, it answers so many commonly discussed but rarely answered questions about vaginal health. It reads almost like an encyclopedia, with sections on a plethora of different topics from "what are the best panties for vaginal health" to "how diet impacts your vagina". I keep it on hand at all times now for all the many occasions I'm asked about vaginas - it's definitely my go-to reference!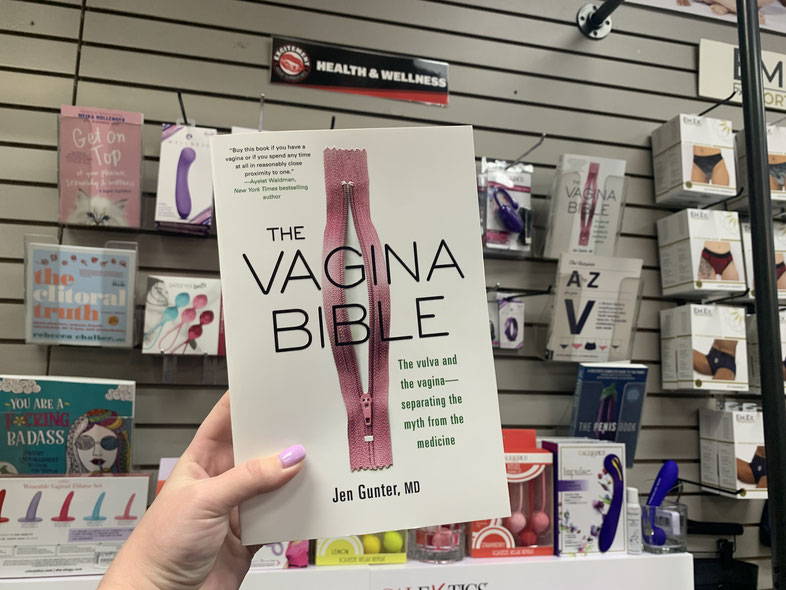 Our health and wellness section is one of the many reasons we set ourselves apart from the days of seedy, dark and dingy toy stores. We are committed to promoting pleasure for the folks in our community! We have become a resource for providing education and support in the area of sexual wellness and pleasure. Our staff is changing the world, one orgasm at a time :)