Pegging is a common term used to describe the act of someone (typically a woman) using a strap-on harness and dildo on their (typically male) partner. It's important to note that pegging, or any use of a strap on and dildo, is not exclusive to any one gender or sexual orientation. We all have butts and can all enjoy pleasure there if we choose.
If you and your partner are looking to begin the journey of exploring this type of sexual play, keep reading for tips, tricks, and recommendations!
Be sure to check out our previous article, A Beginner's Guide to Butt Stuff, for more info!
Before any talk about lube, dildos, or harnesses, let's start at the way beginning by discussing the conversations that should happen between all parties involved. As with any sexy stuff, there should be a lot of conversation surrounding boundaries, needs, and desires prior to the act itself.
What are you hoping to get out of the experience? What is a safe word that can be implemented? How can you each check in with each other during the fun?
It's not cool to pressure anyone into anything, so make sure the energy is really open and receptive, rather than pushy or manipulative. Check yourself to make sure this is something all parties are a "hell yes" on! Once that is established, you can move on to all the ways you can make each other feel safe and supported. 
Once you have both established your boundaries and needs, it's time to strap up!
You should follow the standard advice of any butt play which is start small, go slow, and use lots of lube! It could be helpful to start with fingers and plugs before moving on to any penetration with dildos.
For the receptive partner: make sure you are really relaxed and super aroused before any penetration. It's helpful to have more foreplay than normal. This helps relax all your muscles and open up your body for pleasure.
For the giving partner: go slow and really pay attention to your partner's cues. Look for "go" signals and "stop" signals from your partner's words and body language. Follow their lead!
Excitement is stocked and ready with all of your pegging needs! The following are some of our favorites.
The Lush strap on by Sportsheet is a favorite of mine because of the back padding that gives you a little more cushion and control. It's fully adjustable and machine washable. It can fit any dildo with a suction cup base, and comes with three different sized rings so you can use this harness with multiple attachments if you choose!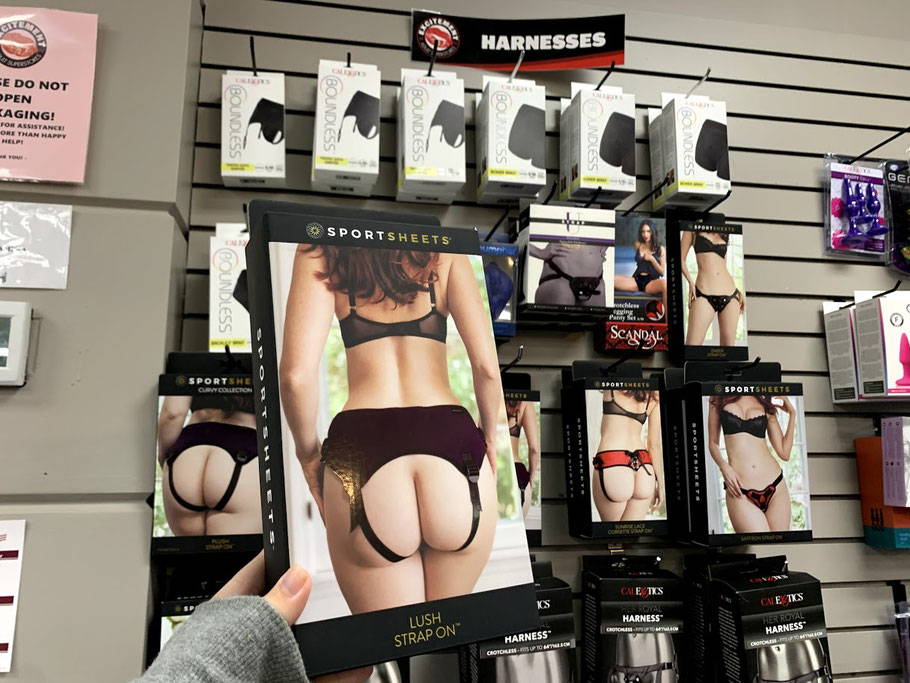 The small size of the Boundless Collection by Calexotics is excellent for beginners. It's slim and curved for prostate stimulation, and made from body safe silicone. It's size and shape make insertion easy for someone who is new to anal penetration. You can then move up to all the other sizes in the collection!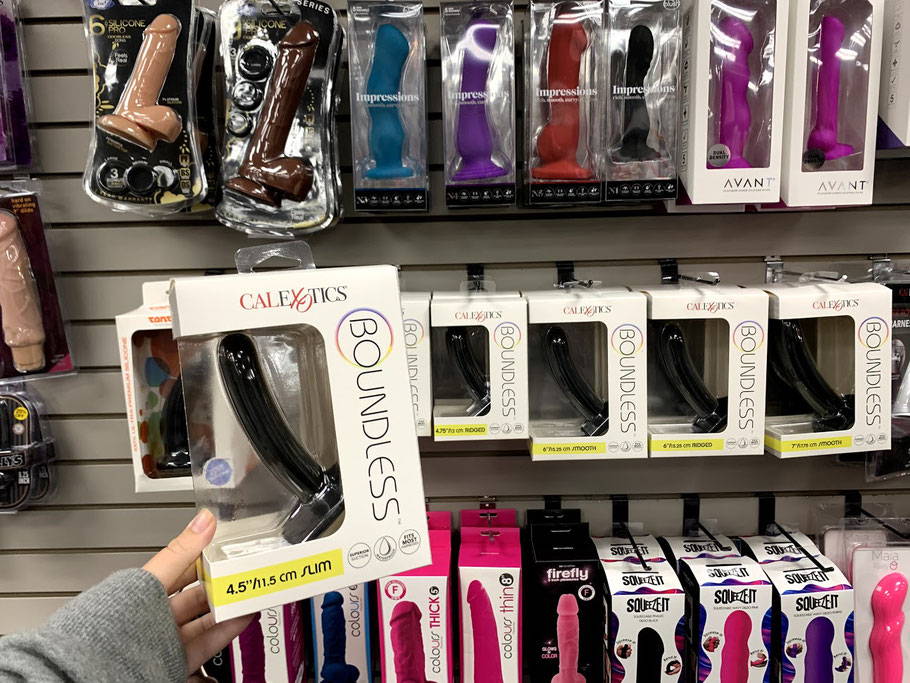 A good anal lube will make this experience far more pleasurable and easy. When using toys, you'll want to avoid any silicone based lubricant. When looking for a water-based lube, you'll want something thick and long lasting that is made from body safe ingredients. A few of our faves are Sliquid sassy, Sensuva Hybrid Formula, and Pjur Analyse me.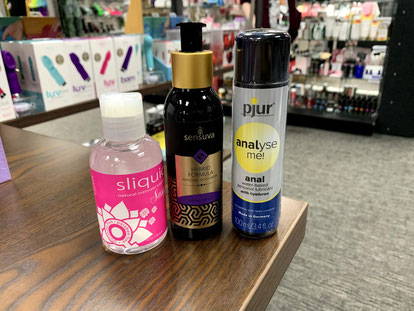 Do you have more questions about the pegging experience or the best products to use for this endeavor? Not sure how to properly assemble a strap-on harness? Stop in to any of our locations for a quick demonstration! Our staff is ready for any of your questions and to assist you with your choices. We are here to make sure you get the best products for your specific needs.
We can't wait to have you. Good luck and have fun!